Written By:
Today, Patagonia, Inc. is a well-known and revered sustainability retail giant, but this reputation did not come easily. When Patagonia first entered the marketplace in 1973, "sustainability" was far from a commonplace term. However, over time, the company has demonstrated how business can be a force for good – for both planet and people – and not simply an extractive institution.
As founder, Yvon Chouinard shaped Patagonia's mission statement and core values through his own image. The company's mission is simple:
Patagonia is in business to save our home planet.
Chouinard first started Patagonia as a climbing equipment company. He was a passionate climber who, along with Tom Frost, created tools to improve the sport. The pair began selling steel pitons, which were effective in keeping climbers safe but not in protecting the rocks – a massive conflict with their values as avid outdoorsmen. When they realized their products were harming the natural landscape, Chouinard and Frost innovated a new tool and compelled customers to alter their climbing practices.
The pair announced a pivot in their 1972 catalogue, saying: "No longer can we assume the earth's resources are limitless; that there are ranges of unclimbed peaks extending endlessly across the horizon. Mountains are finite, and despite their massive appearances, they are fragile." This announcement exemplifies how Patagonia employs storytelling to create a community of people engaged in the practice of saving our home planet.
The SI-MBA cohort had the pleasure of welcoming Vincent Stanley, Patagonia's Director of Philosophy, as a guest speaker for our Family Business Club. He has been with Patagonia since its inception and has served as chief storyteller for many years. Storytelling is an integral part of Patagonia's culture and their primary tactic for furthering the "responsible business" movement. In his first few words to the cohort Stanley was quick to distinguish between sustainability and responsibility, deeming the latter a more suitable term given that everyone possesses the agency to be responsible.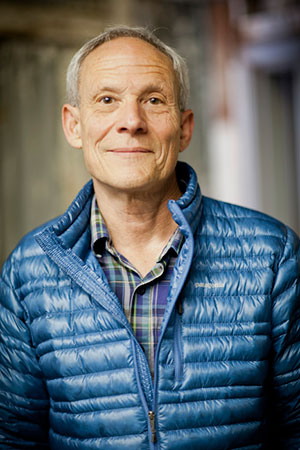 Patagonia has always engaged deeply with their employees, consumers, and the physical world; this engagement has taken the shape of storytelling in many ways. Initially this communication occurred on employee camping trips to inspire passion around protecting the natural environment, but they have graduated to written and visual mediums to highlight relevant environmental and social issues for both employees and consumers. Creating a platform for these stories is part of what makes Patagonia a leader in sustainability: their focus goes beyond sales and lies truly in their values of being "in business to save our home planet."
When asked how it feels to be such an industry leader, Stanley replied, "We're humbled. We're not sure environmentalism is yet a major concern for the majority of consumers, but it is for our friends and customers."
This sense of humility is evident in Patagonia's storytelling as they weave together voices from Chilean fishermen, female carpenters, Japanese sake brewers, and many more. The company illustrates the impact of environmental and social issues on the people experiencing these issues firsthand. Patagonia's stories create a community around their brand and shed light on how we can all make a difference. The stories Patagonia shares through their platform ground these issues and create community for all involved with the brand. Just last week, a group of SI-MBA students attended a screening of Patagonia's latest film, Newtok, which showed the impact of sea-level rise in a small community in Alaska.
Patagonia's use of storytelling also brings a sense of inclusivity to their brand. Regardless of hobbies, interests, or identities, people want to support Patagonia and everything the company stands for. Stanley explained, "The films, books, store events are all ways to connect with the customer through shared values and action. We think that among our customers an alliance or network of people who share these values will be even more central to the business ten years from now than today."
It's subtle and it's intentional. Patagonia is purposefully creating collective action and consumer buy-in through storytelling. The Patagonia brand itself is a call to action.
Looking to the future, regenerative practices are at the forefront of Patagonia's strategy, mirroring the mindset of giving back more than we take. Using their established platform, the company is now able to share their successes and inspire a more responsible path forward for the business community. Patagonia has paved the way; it's time for other businesses to follow suit.