The Mission
The Agricultural Engineering Program of UVM Extension is dedicated to enhancing our food systems through analysis, design, evaluation, and adoption of infrastructure, technology, and equipment that meet the needs of food producers and processors.
The Why
Our food systems are experiencing increased localization, value addition, diversification, extension of growing season, and market demand. New crops and new ways of growing, harvesting, and storing crops are being explored and adopted.
Regional processing of crops to value-added food products is on the rise. Consumers are demanding nutritious, safe, and locally-sourced foods through-out the year requiring a focus on extended growing season and improved post harvest handling systems.
This is all happening at a time when energy is expensive and environmental impact including climate change is increasingly important. As a result, the agricultural landscape and the people who work in it are changing and adapting.
The dynamic nature of the food system demands technical assistance in several areas including engineering. The work of agricultural engineering is to apply science and technology to the practical needs of those working in the food system.
The Work
Our work focuses on three main areas:
Post Harvest
Handling of crops after harvest including washing, packing, curing, drying, storage, and produce safety.
View Resources
Protected Culture
Growing in areas protected from the environment such as high tunnels, greenhouses, and indoor growing.
View Resources
Sustainable Energy
Farm-based energy sources and energy efficiency supporting agriculture today and tomorrow.
View Resources
We also remain actively engaged in the food system community and enjoy exploring unique questions and emerging ideas when we can. In the past this has included tools for harvesting and drying herbs such as hops and hemp, supporting small-scale meat curing facilities, helping an ice cream manufacturer with a floor design, supporting a farmer with a grant that explored making fuel briquettes from surplus cow manure and bedding and many other projects.
Farmers and processors with specific technical needs and research & development ideas related to Vermont food systems are encouraged to contact us.
The Team
Our team is Chris Callahan and Andy Chamberlin. Our common motivations are problem solving in agriculture, the community of people who grow and make food, the environment, dogs, and coffee.
Chris is an Engineer, serves as the Program Lead and has an excessively long title of Associate Extension Professor of Agricultural Engineering.
Andy is an Engineering Technician and serves as the Program Outreach Professional.
Together we aim to listen to our community to understand their needs so we can find or develop the necessary knowledge to help them improve and overcome obstacles. Ideas for workshops, guide sheets, videos, and other outputs generally start with conversations with individual farmers or food business managers.
The Partners
We are fortunate to work in a great community of fantastic partners.
Food Producers and Processors
Our most important partners are the people who grow and make food; farmers and food processors. We depend on these partners to identify new challenges and jointly develop solutions. We engage with a wide variety of stakeholders to do our work collaboratively.
The UVM Extension Produce Safety Team
We work closely with Hans Estrin, UVM Extension Produce Safety Specialist and Coordinator of the Vermont Community Accreditation for Produce Safety (VT-CAPS) . Together, Hans, Andy, and Chris form the UVM Extension Produce Safety Team. The work of this team is to support the Vermont produce growers in maintaining and improving produce safety.
Vermont Vegetable and Berry Growers Association (VVBGA)
We also work closely with the UVM Extension Vegetable and Berry Program supported by Vern Grubinger with Becky Maden. This program helps coordinate the state trade association of produce growers, the Vermont Vegetable and Berry Growers Association (VVBGA). Our teams collaborate to provide joint workshops, webinars, and other resources based on community need.
Vermont Agency of Agriculture, Food and Markets (VAAFM) Produce Safety Program
Our team coordinates closely with the Produce Safety Program of the Vermont Agency of Agriculture. With the formalization of the Food Safety Modernization Act (FSMA), regulatory oversight of produce safety standards has increased. There is a national approach to implementation that emphasizes the need to "educate before and while we regulate." In partnership with the VAAFM, our team works to support produce growers as they navigate the new regulation and changes in their businesses that relate to produce safety. This has included joint delivery of PSA Grower Trainings, collaboration on On-Farm Readiness Reviews, providing technical support to VT Produce Safety Improvement Grants, and coordination around specific needs in the community and responsive development of needed educational resources.
The Northeast Center to Advance Food Safety (NECAFS)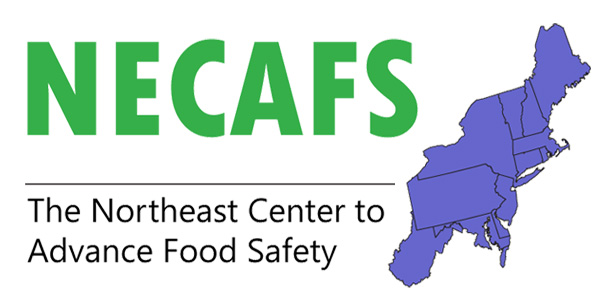 In addition to leading the Agricultural Engineering Program, Chris serves as the Director for the Northeast Center to Advance Food Safety (NECAFS) in partnership with Elizabeth Newbold who serves as the Assistant Director. NECAFS is one of four regional centers established to enhanced education and outreach related to the Food Safety Modernization Act (FSMA) among small and medium sized producers (growers) and small processors. NECAFS maintains the Food Safety Resource Clearinghouse a collection of educational resources from around the country.
---
310 Main St, PO Box 559, Bennington, VT 05201-0559
Program Support
Our work is supported by a variety of grant funded projects. If you would like to make a contribution to our program, you can do so here.