As part of our  upcoming celebration of the many publications by members of our department in 2016 and 2016 this Friday (4 PM, at Alumni House, 61 Summit Street, Burlington, VT 05401), we are featuring several of the books that will be celebrated.
First up:
Holocaust Memory in a Globalizing World
Edited by Jacob S. Eder, Philipp Gassert, and our own Alan E. Steinweis. Goettingen: Wallstein, 2017.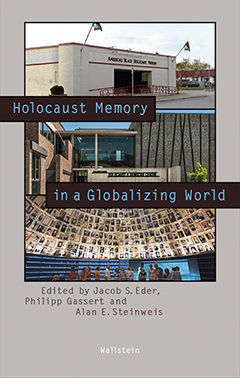 The memory of the Holocaust is central to the historical consciousness and political culture of Germany, Israel and, to a lesser extent, the United States and the countries of Europe. But is this also true for other parts of the world? How do societies that were not affected by the occupation and extermination measures of the Nazi regime deal with the legacy of the Holocaust? How have nonwestern minorities with their own collective experiences of colonialism and persecution responded to the institutionalization of Holocaust memory in the western countries where they live? How does demographic change affect memory? In what form have immigrants grappled with the centrality of the Holocaust? From a global perspective, and in different national and regional contexts, international experts analyze the worldwide transformation of Holocaust commemoration. The fourteen case studies contained in the volume focus on the genesis and cultural impact of Holocaust commemoration in Europe, North and South America, Israel, North Africa, South Africa, and Asia. The book examines contradictions and challenges in a process that is often referred to as the "globalization" or "universalization" of Holocaust memory.
The volume is based on a series of international conferences co-sponsored by the Universities of Vermont, Augsburg, Jena, and Haifa.
Please join us on Friday afternoon at Alumni House!  Refreshments will be served.