Long ago, UVM's Chief of SkunkWorks, Wesley Wright, put together a script to pull information out of our Oracle Calendar server. It can be used to display calendar data on a web page, but it also can be used to view (read-only) calendar information from applications that understand iCalendar. Wes wrote some instructions on importing calendar events into an iPod, and the script-invoking URL at the end actually works with Outlook 2007:
If you are an Oracle Calendar user, you can import your own calendar, provided that you have not restricted read access to your agenda. The URL for use with iCal Subscribe or for manual downloading is
http://scripts.uvm.edu/cgi-bin/CT_Cal.pl?fn1=surname&gn1=givenname&period=year&asical=1
replace surname with your Oracle Calendar surname (last name) and givenname with your Oracle Calendar given name (first name) . Example
http://scripts.uvm.edu/cgi-bin/CT_Cal.pl?fn1=wright&gn1=wesley&period=year&asical=1
To add Oracle calendar to Outlook 2007, open the Account Settings dialog and click the Internet Calendars tab. Click the New… button, and type in the script URL above, providing your own given and surnames.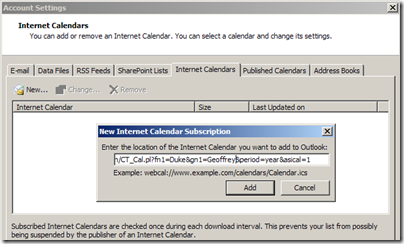 Continue reading →