You are currently browsing the category archive for the 'Tools and Links to Tools' category.
The UVM Information Security policy (see procedure 16.4.2.1) specifies that all university-owned laptops must use approved encryption software to protect the University (or other confidential data) that may be stored on them. CHWB stands by this policy (of course) and encrypts every laptop with BitLocker.
The products below may also be used to encrypt flash drives and other media that are used to store or transport such data.
Computers that run Windows 7 or Windows 8 should be encrypted using Microsoft BitLocker.
Macintosh computers running OS X 10.8 Mountain Lion or OS X 10.9 Mavericks should use FileVault 2 and Casper to encrypt and manage recovery keys.
Computers with older versions of OS X are strongly encouraged to upgrade (free through Apple Store).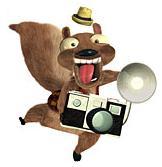 I don't know about you, but sometimes at work I get distracted by the shiny things on the internet. Maybe it's an eBay bidding war for a "Murder, She Wrote" action figure. Maybe it's a compulsion to review the UHC cafeteria food on Twitter. And let's face it, Facebook is nothing more than a distraction delivery system.  These things can leech away your attention and your time.
If you ever feel like you could use a little help steering clear of these websites during the day, Leechblock is worth checking out. I've used it; it's simple and effective.
Leechblock is an "add on" for Mozilla Firefox that allows you to specify up to six sets of websites to block, with different times and days for each set. You can block sites within fixed time periods (e.g., between 8am and Noon, and from 1pm to 4:30pm), after a time limit (e.g., 10 minutes in every hour), or with a combination of time periods and time limit (e.g., 10 minutes in every hour between 9am and 5pm).
It only works with Firefox, so if you use a different web browser during the day then you'll need to find another solution–perhaps hypnotherapy.
Leechblock is easy to download and install from here:
https://addons.mozilla.org/en-US/firefox/addon/leechblock/
Once it's installed, select Add Ons from the Firefox menu and click the Options button to tell it…
What to block (the address of the site you want to block, e.g. www.facebook.com)
When to block (example below)
Leechblock is not for everyone, of course, but if you need a little help avoiding distractions during the workday, it might be worth a try.
Select from the links below to take care of business or select (about) for more info: